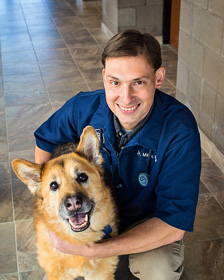 Dr. Mark Cagle, Veterinarian
Before opening Willow Oak Veterinary Hospital, Dr. Cagle practiced veterinary medicine for 10 years in Durham. Dr. Cagle's love of animals began as a child on a small farm in rural Tennessee, where he hand-reared everything from farmyard chicks to woodland snakes. His passion for helping these animals sparked the path toward becoming a veterinarian. Dr. Cagle received his Doctorate in Veterinary Medicine in 2003 from the University of Tennessee College of Veterinary Medicine after completing his B.S. in biological sciences with a concentration in biochemistry, cellular and molecular biology. Dr. Cagle's professional interests include internal medicine, surgery, oncology and exotic animal medicine, especially reptile medicine. When not working, he enjoys spending time with his wife, son, and numerous pets, hiking, photographing wildlife, and exploring historic sites.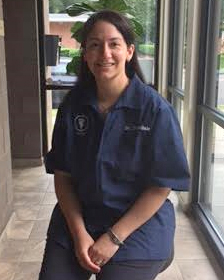 Dr. Melissa D'Annibale, Veterinarian
Dr. D'Annibale is a 2016 graduate of the North Carolina State University – College of Veterinary Medicine, where she focused her studies in small animal medicine. Her particular interests include preventive medicine, surgery, and feline medicine. Prior to attending veterinary school, she received a BS degree in Biology in 2003 from Penn State Erie – The Behrend College in Erie, Pennsylvania, and then went on to complete a MS degree in Cellular and Molecular Biology in 2005 from the University at Buffalo in Buffalo, NY. She moved to North Carolina in 2008 and still misses the snowy Pennsylvania winters. When not at work, Dr. D'Annibale enjoys gardening, reading, and spending time with her husband and their cat named Miles.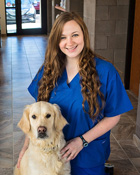 Dr. Abby Crownshaw, Veterinarian
Dr. Crownshaw graduated from North Carolina State University – College of Veterinary Medicine in 2019, where her studies were focused on small animal medicine. Her medical interests include oncology, internal medicine, dermatology, and shelter medicine. She researched soft tissue sarcomas and radiation therapy while in veterinary school as well as taking additional courses in medical oncology. She received her bachelor's degree from the University of North Carolina at Chapel Hill in 2011, where she double majored in biology and psychology. When she is not working, Dr. Crownshaw is an avid reader and enjoys travelling and volunteering with animal shelters. She lives with her husband, Carlos, and their numerous pets (2 dogs: Jasper and Matilda, 3 cats: Little Man, Nala, and Sebastian).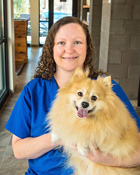 Stacy McMannen, Office Manager
Stacy has been in the veterinary field for 20+ years and has loved every minute of it. She has four dogs: Rascal, Chance, Bandit and Jimmy. When she is not working, she enjoys spending time with her husband, Ronnie, and two daughters, Kelsie and Natalie. She also enjoys cooking and watching movies.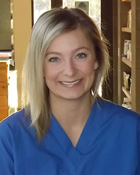 Brittany Stermer, Certified Veterinary Technician
Brittany, CVT, joined the Willow Oak family in December of 2017 after moving from Illinois. She has been in the Veterinary field for 13+ years and in 2010 she became a graduate of the Veterinary Technician program at Fox College. She has a special place in her heart for Golden Retrievers. In her spare time she loves spending time outdoors, running and traveling. She and her boyfriend Taylor share a home together in the Durham area.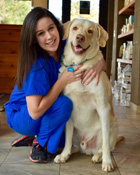 Megan Lucas, Veterinary Assistant
Megan is a Durham native. She has been in the veterinary field since 2013. She is currently enrolled in Penn Foster to receive her Associate's degree in Veterinary Technology. She loves traveling to Florida, and spending time with her pets, Sampson and Boo Kitty.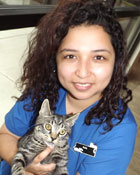 Kaila Ibanez, Veterinary Assistant
Kaila started in the veterinary field in 2015. She plans to continue her education to receive a degree in Veterinary Technology or begin the schooling for Animal Behavior. She loves spending time with her dogs at the Eno or the dog park.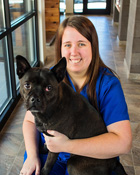 Allison Gentry, Receptionist
Allison has been with us since January 2015. She has loved animals all her life. She lives in Durham with her husband David and daughter Kaylee. She has two dogs, Presley and Remy and two cats, Lily and Freddy. In her spare time, she loves spending time with family and being outdoors.